As long as fashion has existed, there has been sexual messages and symbols in the clothes we wear. Even in the "old days" women was narrowing their waist with corsets and "showed of" their breasts. Sex in fashion has always existed, mainly because our clothes shows who we are, and most of us are humans who like sex –to put it out very simple! In a consumerist perspective, the fashion industry knows that "sex sells", which is probably the reason why most designers create clothes that reminds us of sex. This fact is also seen in fashion campaigns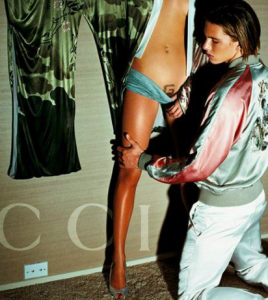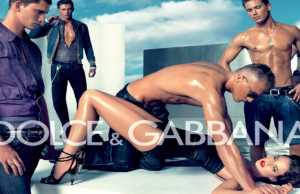 S&M and bondage in fashion –why?
Sex is very often a natural part of fashion, but why do we continue seeing S&M, bondage and fetish elements in fashion? Is every human into "the dark side of sex"? If you look at the success of "Fifty shades of grey", you could think that everyone is into more experimental kind of sex.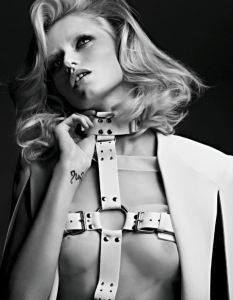 I believe the reason why designers and consumers loves the elements of S&M and bondage in fashion is because of the human attraction and fascination of control versus loosing control. One part has more power and control than the other. Power and control are elements you can play with and investigate –and that is exactly what active "S&M and bondage people" do. They play with roles and different power positions. Some would say and ask "why do anyone want to get tied up or wear a tight corset, and the answer is kind of a paradox. There is pleasure in the constrictions. People who loves being limited and held under control, finds freedom in the loss of control. When they surrender and give someone else the power, they don´t have to think about anything. They can relax and enjoy themselves.
Leather, latex and chains
Clothes with leather, latex, chains, strings or rope makes it possible for people to "go all the way" and makes it possible to "wear the meaning". Maybe that sounds a little bit too philosophical, but what I mean is, that you are wearing the symbolic value. You are wearing sex.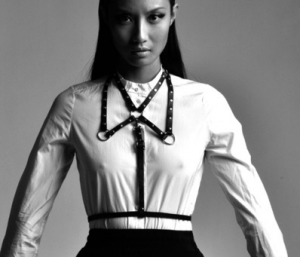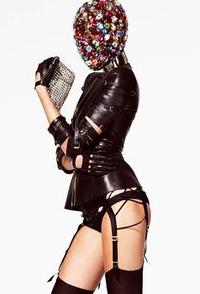 The erotic, sensual and dark way of dressing is not only about the physical materials. It is also about the symbolic value of what we see. Chains, strings and rope are something that can tie us up and control us. Tight leather and latex is something that makes it more difficult to move around, and controls and limits our movements. Zippers and lace are elements that shows us something, but not all –our imagination is activated. Also womens high heels and long nails are a symbol of being passive and not in control because of the way you are limited physically. So passive versus active, and control versus not in control are represented in many ways. Most of us don´t even think about it , but our unconsciousness knows exactly what is going on… and maybe gets turned on by it….
Dress in orgasm
Some people gets so turned on by what they see and how they feel by wearing certain types of clothes, that they "feel like having a continual orgasm" (From the text on "Female Fetishism" by Lorraine Gamman and Merja Makinen). I can´t help thinking about "Pavlovs dogs", that knew food was coming in a minute. In the same way humans knows that "sex is coming up", when they see and/or wear sexy clothing. They get a tense anticipation of pleasure. And that feeling sells!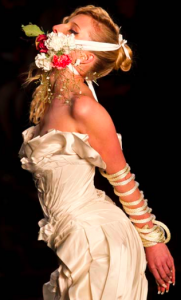 Will S&M in fashion continue?
Yes indeed! Some believe that the erotic clothes in fashion is a sign of the mans fantasies and a way the male designer can change the woman into an object. Maybe that is true, but I strongly believe that the erotic clothes would never sell, if it was only about satisfying the men. Women wants to satisfy themselves –also! And there is good reason to believe that women loves wearing "something sexy". Not only to look good, but also to feel good. The way we dress effect our inner feelings, desires and imagination. So put on the high heels and enjoy the weekend 😉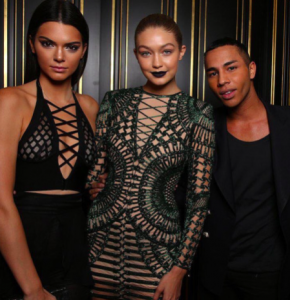 Love Manou